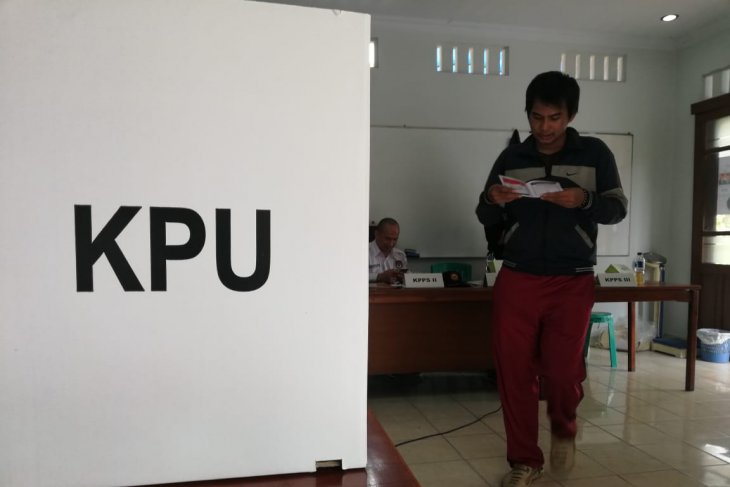 Illustration - A voter exercises his political right at a pooling both in the 2019 simultaneous election.(ANTARA)
The House of Representatives (DPR) has agreed to a proposal on the revision of law on simultaneous general elections.

Chief of the DPR Commission II Ahmad Tanjung, in Jakarta on Sunday, highlighted the need to evaluate the implementation of the simultaneous general elections in 2019 owing to the several problems encountered.

"There may be a fundamental change in our general elections, particularly simultaneous elections, that must be evaluated," he stated.

He remarked that the DPR Commission II had agreed to revise Law No.7 of 2017 on General Election and Law No.10 of 2016 on Regional Head Election.

For the first time ever, over 190 million eligible Indonesian voters cast their ballots for the president and vice president as well as for members of the Regional Representative Council (DPD), DPR, and Provincial and District/Municipal Legislative Bodies (DPRD) on the same day on April 17, 2019.

In the 2024 general elections, voters will elect not only a president and legislators but also regional heads. "Let us see the developments first since our target is early 2021," he stated.
He noted that voters and election officers will encounter difficulties if the simultaneous elections, comprising the presidential election, legislative election, and regional head election, were to be organized in the same year.

"When the legislative election and presidential election were held simultaneously (this year), they claimed many lives. Moreover, if all the elections are held simultaneously, the number of victims may increase," he stated.

He strongly believes that no lives should be lost in the 2024 general elections.

He highlighted the need to conduct a comprehensive evaluation of the design of the 2024 general elections as well as academic and empiric reasoning. (ANTARA)