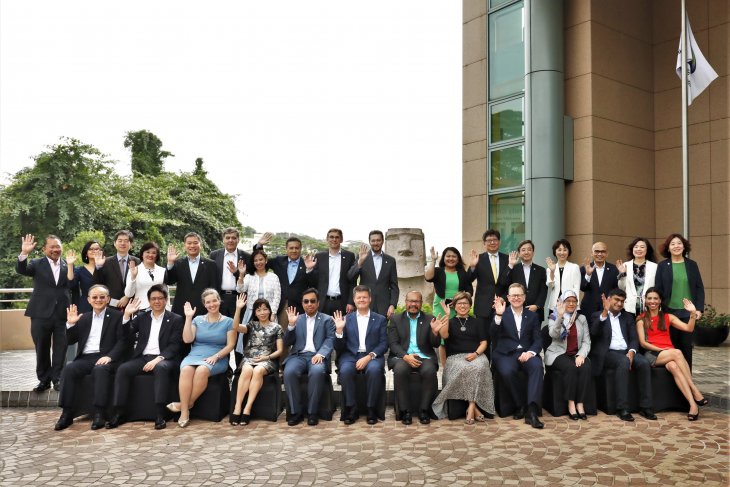 APEC Concluding Senior Officials' Meeting held in Singapore on Saturday (December 7, 2019). (APEC Secreatriat)
Asia-Pacific Economic Cooperation (APEC) members will make concerted, sustained efforts in the path to achieving more inclusive and sustainable growth, APEC Senior Officials pledged at the concluding event for Chile's host year of APEC.

At the APEC Concluding Senior Officials' Meeting, taking place at the forum's Secretariat in Singapore, Chile put forth the three plans for collective action – or 'roadmaps' – that member economies agreed on during the year on key issues for regional prosperity.

These three plans pertain to the issues of women's economic empowerment; marine debris; and illegal, unreported and unregulated fishing, according to a written statement issued by the APEC Secretariat and received Jakarta on Monday.

"The APEC enables our economies to foster and build consensus – and that's critical for the region in times of challenges. At a time when the needs of our people are evolving, multilateral and regional fora, such as the APEC, can provide inclusive and sustainable solutions and create new opportunities for all our people," 2019 Chair of APEC Senior Officials Mathias Francke remarked.

"Senior officials also focus on ways to deepen engagement with stakeholders," he stated.

Constituting 60 percent of the world's gross domestic product (GDP) and half of the global trade, APEC's 21 economies are vital to global economic growth.

The forum, marking three decades of cooperation, is one of the oldest and most resilient vehicles for economic collaboration and integration.

Francke noted that Chile's host year was all about reverting to the essence of APEC -- or "back to basics" -- by promoting informal, open dialog between economies to advance complex issues. This approach enabled the forum to achieve important outcomes, including a consensus statement by the ministers responsible for trade.

Along with addressing the forum's achievements and long-term vision, senior officials also pressed for action by the APEC Digital Economy Steering Group, formed earlier this year to spearhead the forum's work on an increasingly critical sector.

A new APEC report on structural reform and the digital economy is also projected to serve as a guiding beacon for the region's economies to garner greater benefits and better adapt to the fourth industrial revolution.

APEC Senior Officials also lauded the completion of the La Serena Roadmap for Women and Inclusive Growth that defines concrete goals and recommendations to reduce existing gaps between women and men in the Asia-Pacific. Chile is the first APEC economy to elevate women's empowerment as a region-wide priority.

"To truly achieve inclusive growth, the APEC must ensure that everybody, including women and vulnerable groups, are able to fully participate in the economy and benefit from any progress. We thank Chile's leadership in raising awareness on this pressing issue and vow to continue this important work," Rebecca Sta. Maria, executive director of the APEC Secretariat, stated.

Following the final meeting, led by Chile, APEC Senior Officials will convene in Langkawi, Malaysia, for the first events in the host economy for APEC 2020. (ANTARA)