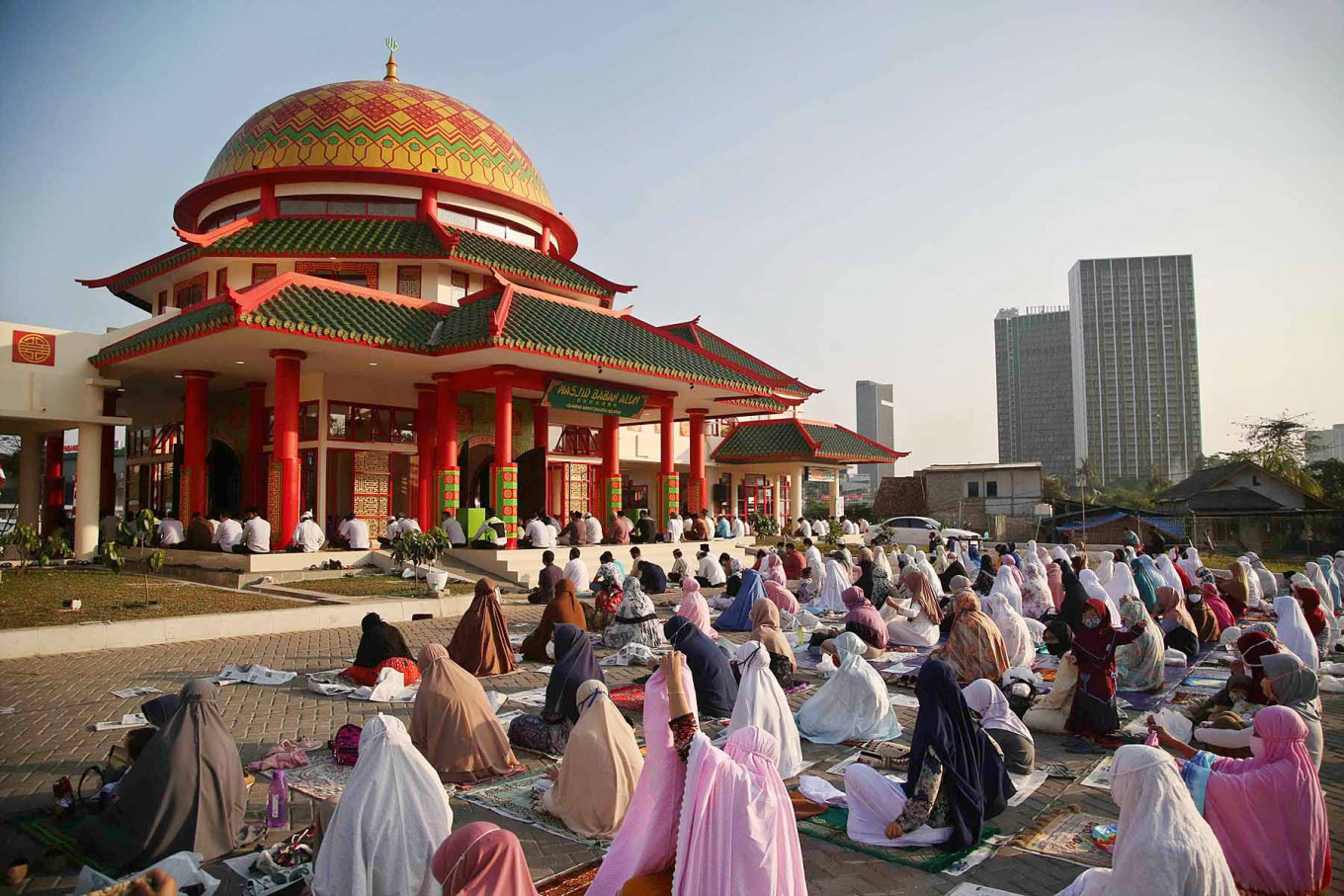 Praying under protocol: Muslims attend an Idul Adha (Day of Sacrifice) prayer at Babah Alun Mosque in Cilandak, South Jakarta, on July 31. (JP/P.J. Leo)
More than half of the people tested for COVID-19 at houses of worship were found to have the disease, health authorities have revealed.
According to epidemiologist Dewi Nur Aisyah of the national COVID-19 task force, the positivity rate in houses of worship has reached 74 percent, up from 51 percent, tempo.co reported.
The positivity rate refers to the percentage of positive results of from all tests conducted in a cluster.
Jakarta Health Agency data from June 4 to July 28 shows there were 114 confirmed cases from nine houses of worship clusters across the capital. Most of them were located in churches and mosques, with three clusters each and a total of 40 cases.
Meanwhile, health authorities recorded one cluster in a clergy dormitory, pesantren [Islamic boarding school] and tahlil (Islamic prayers of the dead), with a total of 74 cases.
"The positivity rate likely [increased] because people kept gathering in one place, such as in a clergy dormitory," Dewi said on Friday as quoted by tempo.co.
During its transition from large-scale social restrictions (PSBB), the capital determined five types of COVID-19 clusters, namely houses of worship, residential areas, markets, office and health facilities.
Governor Anies Baswedan extended the transitional PSBB for another two weeks starting on Friday after Jakarta failed to slow down the daily increase in COVID-19 cases. The capital's positivity rate hit 6.5 percent in the past week, above the figure recommended by the World Health Organization for relaxations, which is 5 percent or below.
The city's latest COVID-19 daily reproduction number (Rt) also stood at 1. An outbreak is considered under control if the number is below 1. (aly) (The Jakarta Post)