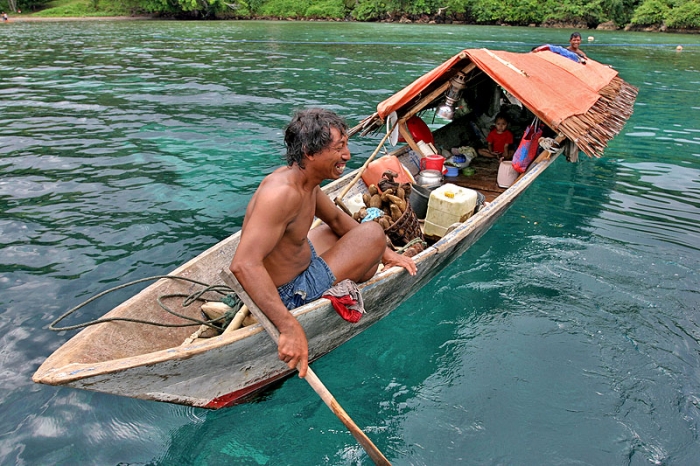 Bajo is an inseparable ethnicity with the sea. Bajo community residence is very unique; most of their houses are built on the water. In the past, they even lived in boats or Lepa. Currently, Bajo people have spread throughout the archipelago, mostly in Sulawesi. There is one tradition of fishing that Bajo community usually does, which requires them to travel long distances. The tradition is called Bapongka. Bapongka is a Bajo community tradition that uses traditional equipment and keeps the marine environment from damage.
Bapongka is sailing tradition for a living survive or to get sea products to another region or province, for several weeks and even months. They went to sea in groups. Each group consists of three to five boats, each boat consists of one person. The formation of small group of Bapongka is done based on closeness. Usually the small group will meet each other in a fishing location then form a large group consist of 15 or even 20 boats.
The traditional boat called 'lepa', which is equipped with outrigger and roof made of sago leaves. Generally the boats are run with oars, although the boats are now equipped katinting machine. During the fishermen perform Bapongka, they brought quite a lot of foodstuffs such as sago and some equipments, such as petromax lamps, water containers, cooking and eating utensils, sleeping gear, and catching equipment for sea cucumbers and other marine products.
Bapongka tradition has a good impact for marine conservation, especially coral reef, because it only using simple equipment. In performing the Bapongka tradition, Bajo community have some taboos that must be obeyed. The prohibition for Bajo people is believed to affecting the catch, such as not to throw something at sea when doing Bapongka. They should not dispose rice washing water, cooking charcoal, coffee grounds, chilli water, ginger water, orange peel, kitchen ash into the sea. When washing the rice, the water put on the boat, and will be shed after approaching the mainland. Likewise with wood charcoal used cooking, ash kitchen, orange peel, chili water and ginger water.
The simplicity of boats and equipments as well as the prohibitions that should not be violated because it is believed to be a disaster. While, Bajo community also believe the sea has a ruler in the form of spirit, called Mbo. All things make the Bapongka tradition of Bajo community highly appreciate and preserve the nature, as their local wisdom.