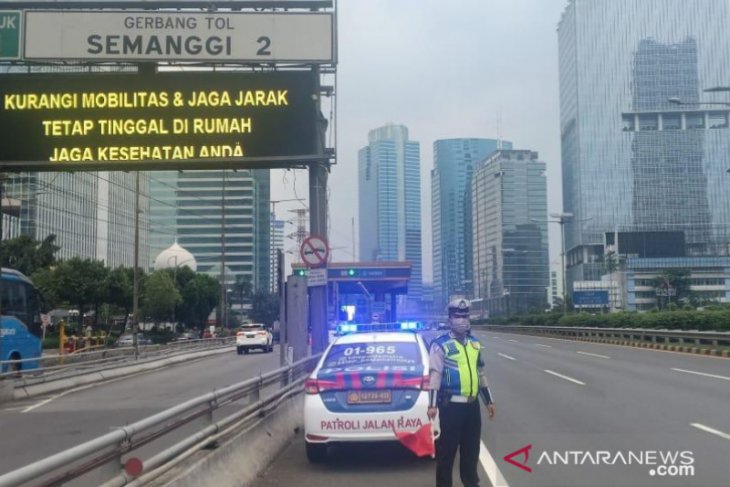 The number cars passing by main roads of Jakarta has significantly declined over the past days amid ongoing concerns over the COVID-19 pandemic (ANTARA)
Many Jakartans have begun understanding the importance of staying at home to contain the spread of new coronavirus disease (COVID-19) as the police in this Indonesian capital city continue their patrols at night to call on those hanging out to go home.

"The number of people hanging out at night has declined compared to those on previous days. They may have begun understanding the situation they are facing," Jakarta Metropolitan Police Spokesman Sen.Coms.Yusri Yunus told ANTARA on Tuesday.

Over the past few days, the city police intensified joined patrols at certain places frequently used for hangouts, including Bulungan, Melawai, Blok M, Kemang, Pejaten, Mampang Prapatan, and Gajah Mada. The police still found many people hanging out there.

However, on Monday night, they found a different situation because the number of people hanging out there had drastically decreased compared to that on the previous days.

Jakarta is one of the cities in Indonesia which have severely suffered from the COVID-19 outbreak because the death toll from this virus in the city is the highest across Indonesia.

As of Tuesday, there were 686 confirmed COVID-19 cases in Indonesia, and 424 of them were in Jakarta. The death toll from this virus reached 55, and Jakarta contributed 31 to the fatalities.

COVID-19, which initially struck the Chinese city of Wuhan at the end of December, 2019, has killed at least 16,591 people and infected no less than 384,432 people in 195 countries and territories worldwide, according to media reports.

Taking into account the rising death toll and the spread of the virus, the World Health Organization (WHO) has declared the coronavirus outbreak a global pandemic.

In Kota Metro, Lampung Province, a 2.4-year-old child has been admitted to a public hospital after presenting with flu, shortness of breath, along with a temperature of 38 degrees Celsius.

"The patient is under surveillance and currently being treated at the Jenderal Ahmad Yani Public Hospital's isolation room," head of the Kota Metro Novel Coronavirus Disease (COVID-19) Task Force, Nasir AT MM, stated.

The toddler developed influenza, fever, and breathing difficulties after being taken to a city in West Java Province for a function, he remarked.